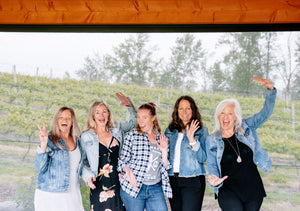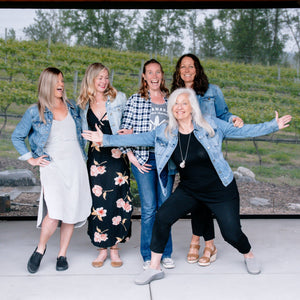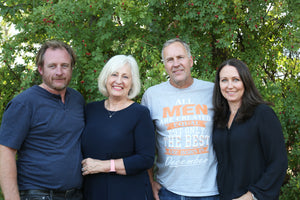 Siblings. Partners. Colleagues. Friends.
Sister Terry and brother JAK have been involved in each other's lives for all their life. Why not spill over into business? And this time they dragged their spouses, Andrew Stone and Janice Stevens along with them.  If that's not a recipe for Mayhem, we don't know what is!
President
Terry Meyer Stone
Terry is well immersed in the Okanagan wine industry. She and her husband Andrew Stone, along with four dogs and one cat, have a 4 acre vineyard on Anarchist Mountain where she works as a farmer growing Chardonnay, Merlot and Pinot Noir.
Just when she thought she was going to "semi-retire" from her five year stint as DTC/Wine Club Manager at Tinhorn Creek, her younger brother JAK convinced her to sell him her Chardonnay and Pinot Noir grapes, and start up a new wine label with him. When she isn't busy in every facet of the wine industry, she is at home with Andrew and the dogs, as well as entertaining their children and grandchildren.
Proprietor
Andrew Stone
We are bringing Andrew in from the field! For the past twelve years Andrew has enjoyed success as a Vineyard Manager with the likes of Liquidity Wines, Arterra and Fort Berens Winery, as well as managing our home vineyard on Anarchist Mountain. With the new tasting room opening and growth of the business, we are happy that he's decided to jump in full time with Mayhem, where he also brings his skills in project management, logistics and IT.  Andrew will continue to manage our home vineyards and connect with select growers, but you're now more likely to find him in the tasting room hanging out and sharing his passion for all things wine. When not pouring wine, you may find Andrew on his unicycle or out sailing.
Janice Stevens
With a background of both public practice accounting, and many years in the food and beverage business, the wine industry has become the perfect career evolution for Janice. She brings a keen interest and understanding of the business to the organization and is responsible for the accounting. She also has immense patience in dealing with her husband and sister-in-law in running the business daily.
Winemaker
Ajay Chavan
Ajay is Australian born, New Zealand raised. After receiving a cricket scholarship out of secondary school, he completed the Oenology program at Lincoln University in Christchurch, NZ. Ajay did his first winemaking vintage in 2012, followed by harvest in Austria, New Zealand, Australia, and the USA. Ajay set his sights on BC to discover more about this young wine region and be closer to family in the Pacific Northwest.
After working at Checkmate in Oliver for over four years, he is excited about the new challenges and opportunities with Mayhem Wines. He loves Merlot, Riesling and fortified wines and is delighted to work with these varieties, along with others. Off the clock, you are most likely to find Ajay enjoying the Okanagan backcountry, playing tennis or snowboarding.
Interior Sales Rep
Angela (Ange) Grant
Angela was raised by a mother who could make the cheapest 1.5L of Chardonnay last sometimes up to a year, so it was much to her surprise when Angela took a wine class as part of the Hotel & Restaurant Management Program at Algonquin College in Ottawa that she did in fact actually enjoy wine! Angela has a Bachelor of Arts Degree with a major in History from Cape Breton University.  She has completed Wine & Spirit Education Trust level 2 & 3 and enjoys continuing to learn about wine though traveling different wine regions of the world. Angela has worked as a Beverage Director for Redwater Rustic Grille in Calgary, managing their wine cellar of 250 wines & offering the staff education on wine.
Marketing & Communications
Monica Lopes
Monica joins our little Mayhem family with a vibrant background in the wine industry. She has completed level 3 of Wine & Spirit Education Trust and has over 10 years experience in direct to consumer sales, marketing and events. Monica spent 6 years as the Wine Club Manager at Meyer Family Vineyards and most recently she led the Sales and Marketing team at Kitsch Wines in East Kelowna. Born and raised in BC, Monica embraces all that the Okanagan lifestyle has to offer, when she's not immersed in the mayhem of the wine world, you'll find her shredding the trails on her mountain bike or spending time with her family & dog Nutella.